Founded in 2021 with the aim of getting involved in the development of the booming French wind market, Haizea Breizh is the new company of Haizea Wind Group. Haizea Breizh will be dedicated to the installation of the internal elements of wind towers, such as ladders, cables, or platforms. This subsidiary will rely on the experience acquired by the rest of the Group's companies and will reinforce both its international presence and the Haizea Wind Group's ambitious expansion plan.
The operations at the new facility began last September, with the arrival of the first sections of the Saint-Brieuc offshore wind farm at the port of Brest, coming from the Haizea Bilbao plant. Each of the 186 sections will be manufactured and painted in the Basque factory and then transferred to the Breton facilities, where the assembly of the internal elements will be completed. To carry out these tasks, Haizea Breizh will rely on the Industrial division of SPIE Industrie & Tertiaire, a French company with a strong local presence and experience in the sector.
The inauguration, which took place on the evening of 6 October at the Haizea Breizh workshop, consisted of a tour of the facilities, including the outdoor area dedicated to section storage. The event was attended by Loïg Chesnais-Girard, President of the Brittany Region, as well as local institutions, customers, partners, and other collaborators.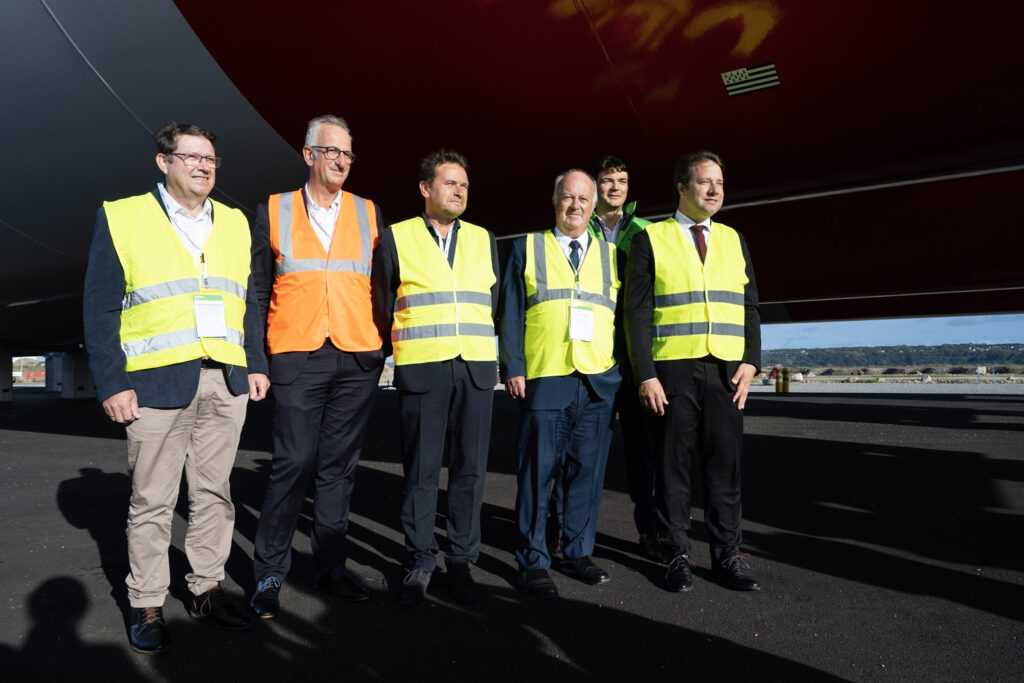 During the visit of the new plant its dimensions were presented. The new facilities, which are located in the new terminal dedicated to marine energies, occupy a plot of approximately 40,000 m2 in the Port of Brest. The design of the plant enables working with sections of up to 7 metres in diameter and 200 tonnes. Once the plant is at full capacity, it is expected to complete up to 6 sections per week.
Around 40 people will work at Haizea Breizh, although due to the thoroughness of the work, a team of 7 workers from Haizea Bilbao has been temporarily deployed to train the operators of the new plant.  Workers from Aguado Wind France will also be present at the facilities to collaborate in the processes.
After completion of the Saint-Brieuc offshore wind farm project, Haizea Breizh's facilities will also be involved in the production of towers for the Noirmoutier and Le Tréport projects, which will come into operation in 2025/2026.